Clean sweep in Indian Wells
Ana Ivanović won her first title in 2008, Novak Ɖoković continued his fantastic season with second major title.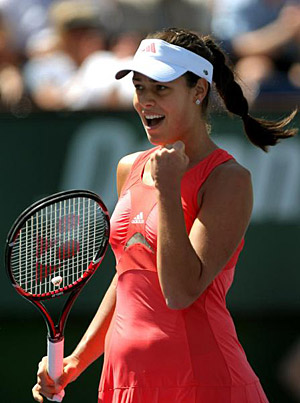 Photo by: Getty Images

Photo by: Getty Images
Indian Wells is probably the most important tournament apart from the Grand Slams and our little country got both singles titles. With Nenad Zimonjić playing in the men's doubles final and Jelena Janković losing to Ana in the semi-final, this week was great week for Serbian tennis.
Ana's victory was almost straight-forward. She maintained the lead and never gave Kuznetsova any chance. I watch her play for several years, she is truly at her best so far, especially on the mental side of the game.
Men final was different, with ups and downs for both players but with Novak keeping the lead…until the middle of the second set, when he really crumbled. I think he meant it's closing time and Fish showed remarkable resilience and played like on fire. The key moment was Novak's 1st serve game in the third set. He was 0:40 down and then fired 3 aces and one service winner. Those 3 aces must have stayed in Mardy's memory for some time as he made several mistakes in his next serve game and Novak built 3:0 lead which was enough to the end.
In a country without any tennis center, with little - if any - government help and effort, these people became Serbia's greatest sport ambassadors. They did it on their own and I bow to them for it.